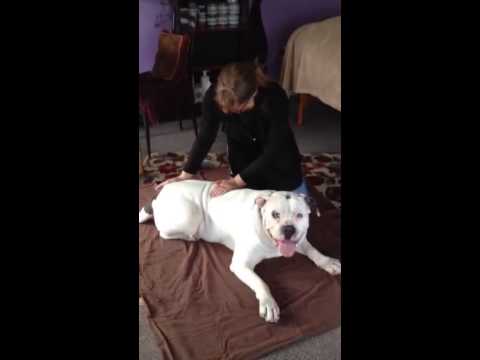 Believe it or not, Massage isn't just for people but for our beloved furry friends too. Canine Massage has been around forever (about 2,000 years!) but sadly most people are just now learning about it or even just hearing about this type of Massage for the very first time. Throughout history there have been recordings of canine and equine Massage from ancient China, Egypt and Rome. There are hieroglyphs, paintings and written recordings of our ancient ancestors also spoiling their pets with the relaxation and relief of a Massage.  In recent years there have been pretty extensive studies on the actual benefits of Canine Massage and whether it has any or not. Here is what those studies have found:
Here are some of the benefits of Canine Massage:
Increased circulation
Endorphin release
Increased toxin secretion
Relaxation and tension relief
Reduced stiffness helping to restore mobility in injured areas
Injury prevention by increasing range of motion and enhancing muscle tone
Improved athletic performance and endurance
Posture maintenance and balance
Improved mental focus and attitude
Healthy skin and coat promotion by distributing natural oils.
Canine Massage is also GREAT for dogs that are just recovering from a surgery, accident or suffering from the aches and pains of getting older (but wiser). Here are a few of the benefits for those special doggies who need a little extra attention:
Help relieve age related problems
Provide relief from muscle tension, soreness, spasms and general weaknesses
Provide relief from chronic pain and discomfort from arthritis, hip dysplasia, etc. through the release of endorphins.
We often give our dogs Massage without even knowing it and they appreciate it all the same. By going to get a Canine Massage from a specialist you're going the extra mile to give some real love to your dog. It's the difference between getting a neck Massage at home (if we're lucky) or going to a professional and getting a neck Massage … and we DO know the difference!!
by Melissa Davis, Awaken Harmony Massage