Most beaches in Morro Bay allow your dog "on leash". It is wonderful to watch your dog totally enjoy an environment, without care….without leash!  In San Luis Obispo County there are two beach areas that are off leash. (For everyone's best experience, be comfortable with your dog doing "doggy" stuff, like sniffing loads of butts and running off to play with other dogs of various breeds and size.  If your dog has an aggressive personality, or isn't neutered/spayed, a dog beach experience is not recommended.)
The Old Chevron Strand – between Morro Bay and Cayucos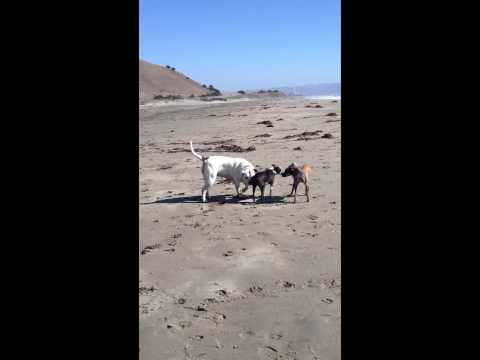 Just a short 8 minute drive from the heart of Morro Bay, this strand of beach is located between Morro Bay and Cayucos. Bring water, a towel, a few balls, and poop bags. Because parking is located on Hwy 1, we recommend that you keep your dog on leash until you hit the sand and leash up before you leave the fenced area.
Directions: From Morro Bay take Hwy 1 north, past the last Morro Bay exit (Yerba Buena). Keep going … you see fence and beach on the west and rolling hills on the right. At Torro Creek Road (on the east) look to the west as there is a break in the fence and loads of cars parked alongside the highway. Make your way to this area. The entrance to this beach is a break in the fencing.
Nestled between these two HWY 1 beach towns, this raw beach area is not exactly a sanctioned dog beach but is used as such, not monitored, and spans miles. You park in dirt along Hwy 1 and slip inside the fence. Bring water and poop bags.
Avila Beach
Just a short 20 minute drive from Morro Bay, Avila offers a dog friendly strip of sand close to the old pier.  It is usually packed with playful critters.  Bring water, a towel, a few balls and poop bags.  Parking is located on the street adjacent to this area.  Keep your dog safe by being leashed until you hit the sand and again when you leave this beach area.
Directions: 101 to Avila Beach exit. Follow to beach. Avoid the town and make a right turn towards the old pier. The beach area is on the left side of the street.  Signs are there.